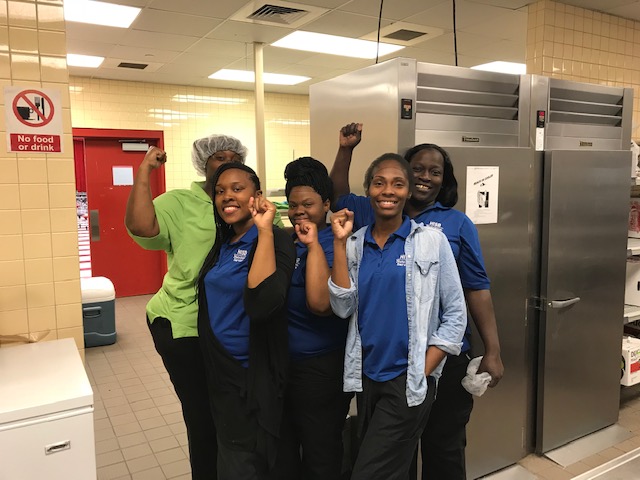 When we first started organizing Food Service employees in Houston ISD in 1992 , most were making $6 an hour. They worked only 1302 hours a year, which made their yearly salary  $10,416. Usually, support workers would get a 2% or 3% pay raise at the beginning of the new school year. A 3% raise equaled $312.48 per year. The raise in pay was going nowhere fast. Not getting a full 8-hour day, not working during the summer months and not able to draw unemployment during the summer, resulted in each employee living in poverty in the largest school district in Texas. TUSE Local 100 set out to do something about this travesty.
It wasn't easy and it took a long time. By researching the HISD payroll, we found 2000 employees making less than $9 an hour and 75% of the them were women. We then started a minimum wage campaign involving our members and our political allies in the Democratic Party. We had noticed that 5 of the 9 School Board members were woman and the campaign focused on the 5 female Board members, saying we don't need the men to do this, the 5 female board members could do this for their sisters. Speaking at various local Democratic party functions, we ran into the HISD Board President that was running for re-election. After we gave our minimum wage testimonials she was next in line to speak and the first words out of her mouth were "If re-elected the first thing I will do will be to make a minimum wage of $10 an hour happen in HISD." After her speech we asked if there was anything we could do to help? She said yes, talk to these two male Board members and see if you can get their votes. We did and they did, we won the vote 6-2 and even got one republican Board member to vote yes.
The sad part of the story was the food service workers were already making $10.69, thus received no raise in 2015/2016 school year. What to do? Ask for more next year. We did and it was raised to $12, finally giving for Food Service workers the biggest raise they had ever received. But the story doesn't end there. In August 2019, when school starts all HISD workers will have a minimum wage of $14 an hour. What does this mean, there we three important parts to our victory (1) Doing the research to find the 2000 workers making less than $9, none of the Board members had realized such workers existed and had no idea that 75% were women. (2) Realizing there had never been a minimum wage in HISD and getting one could lead to a faster increase in the wages of all support staff in HISD in a rapid increase of the minimum wage. (3)  Being able to count and realize the women Board members had a majority and could win the vote without the help of the men on the Board.
Let's do the numbers: In 1992 Food service workers made  $6 x 1302 hours a year =      $10,416
$10 x 1302 hours per year = $13,020
2017 $12 x 1302 hours per year = $15,624
2019 $14 x 1302 hours per year = $18,228
An increase of $7,813
What's next?
All food service workers should have 8 hours of work every day, like all school based employees in HISD. The result would be another $2000 a year for the people that need it the most.